Heute, am 11. Mai jährt sich der Todestag von Douglas Adams, dem Kultautor von 'Per Anhalter durch die Galaxis' (Original: 'Hitchhiker's Guide to the Galaxy'). Im zu Ehren wurde gleich wenige Tage nach seinem Tod der Handtuchtag (Towel Day) als Gedenktag eingeführt. Am 25. Mai tragen Fans des Autors und seinem Werk ein Handtuch mit sich herum.
"Ein Handtuch ist so ungefähr das Nützlichste, was der interstellare Anhalter besitzen kann."
Im Jahr 2005 habe ich im Rahmen eines Artist in Residence Aufenthaltes in Innsbruck das Projekt 'The Physcal HoT Spot' produziert. Neben der Audio Installation die sich auch mit D. Adams beschäftigt, habe ich für die Aussenraumgestaltung eine Serie von Handtüchern bedruckt. Diese wurden damals mit dem guten Rat 'DON'T PANIC' bedruckt. Ergänzt wird dieses Zitat von den Initialen von Douglas Noel Adams, DNA und den GPS Daten von Innsbruck dem Ort an dem D. Adams die Idee für 'The Hitchhiker's Guide to the Galaxy' hatte.
Kurze Zeit später, habe ich auf Grund des enormen Interesse an dem Handtuch eine Produktion eines professionell gewebten Handtuchs in Auftrag gegeben. Selbstverständlich wie gehabt mit dem weisen Rat: DON'T PANIC. Zu erwerben ist es im DON'T PANIC Towel Shop.
Trage es in Ehren :)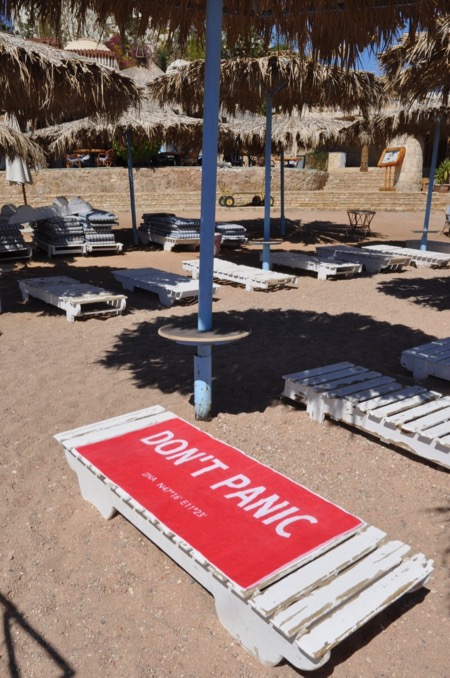 (DON'T PANIC Towel at the beach in Sharm El Sheikh, 2017)