A happy towelday 2014. As a tradition for the last years I have chosen one certain place to present my DON'T PANIC towel. This year it's the High Line in New York City. The former overhead train line is transformed to a public park. The benches for the break or sun bath are maneuverable on the former tracks. The entire garden is like a virtuell station – a wonderful meeting point for hitchhikers on the Towel Day.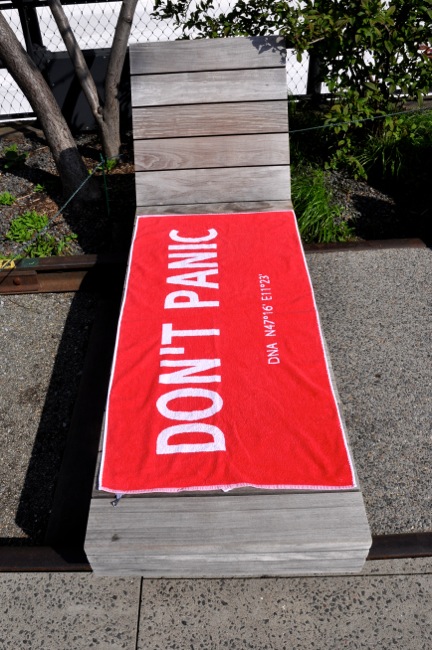 I set up a Towel Day gallery, where you can see that towel travelled already to some locations and met Lenin in 2010.
And if you like to get one the lovely DON'T PANIC towels – there is the unique DON'T PANIC Towel Shop. 24/7 open for you.
 
'A Towel – Just about the most massively useful thing any interstellar Hitchhiker can carry.' – Thanks and honor to Douglas Adams
About Towel Day
Since 2001, on may, the 25th, hitchhiker's, fans + enthusiasts of D. Adams are celebrating the Towel Day, by carrying a towel with them. A few days after Douglas Adams died on the may, 11th 2001 D Clyde Williamson proposed to invent that day, as a tribute to the author of 'The Hitchhiker's Guide to the Galaxy'.