Der 25. Mai, ein echter Feiertag zu Ehren von Douglas Adams und seinem Werk 'Per Anhalter durch die Galaxis'.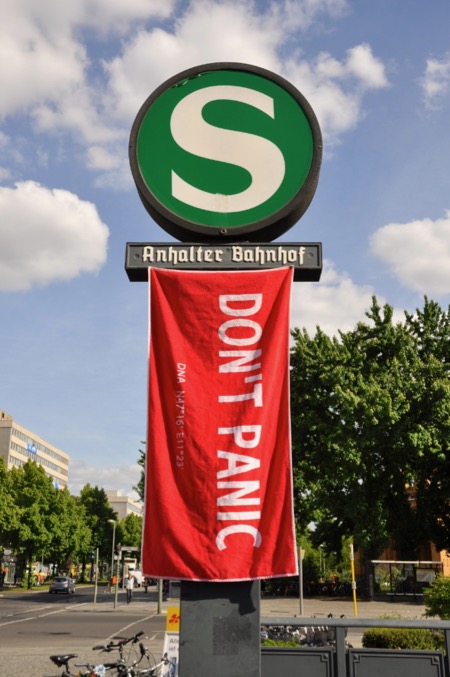 Ein Handtuch reist um die Welt. Ob im Futuro Haus von Eero Saarinen, auf der Schulter von Lenin, im Jagdstand auf Rügen oder auf der High Line in New York City, ein DON'T PANIC Handtuch gehört bei mir zur Reiseausstattung. Zu Hause in Berlin ist die Beflaggung am Anhalter Bahnhof schon Tradition. Eine Fotogalerie zum Towel Day gibt Einblick zu den Stationen und Begegnungen.
Ich habe eine Towel Day Fotogalerie angelegt an der auch die Orte der vergangenen Jahre zu sehen sind sowie eine Begegnung mit Lenin in 2010.
Für alle, die nun auch das wunderschöne DON'T PANIC Handtuch haben möchten habe ich den DON'T PANIC Towel Shop eingerichtet. Kaufe es & trage es in Ehren…
'Ein Handtuch ist so ungefähr das Nützlichste, was der interstellare Anhalter besitzen kann.' – Danke, Douglas Adams
Über den Handtuch Tag
Der Towel Day ist ein Gedenktag für den Autor Douglas Adams der durch sein Buch 'Per Anhalter durch die Galaxis' (Original: 'The Hitchhiker's Guide to the Galaxy') weltweit bekannt wurde. Kurz nach seinem Tod dem 11. Mai 2001, wurde zur Ehren von D. Adams ein Gedenktag ins Leben gerufen: der 25. Mai. An diesem Tag sind jedes Jahr seine Fans aufgerufen ein Handtuch sichtbar zu tragen.
Der Eintrag hierzu im h2g2 / Earth Edition vom 16. Mai 2001: The First Towel Day