Für viele ist Tegel sicher nur der Weg zum Flughafen. Allerdings hat sich im letzten Jahr etwas getan. In Zusammenarbeit von Urban Nation und der Wohnbaugesellschaft Gewobag ist der 'Art Park Tegel' entstanden. An sechs Fassaden von Punkthochhäusern sind Bilder von eingeladenen Street Art Künstlern verwirklicht worden. Jedes der Werke in einer Dimension von gut 40 Metern Höhe.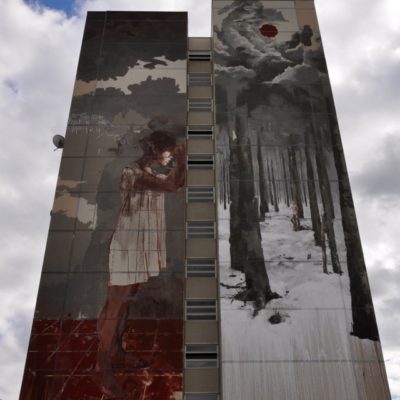 'Refugees Welcome'by Borondo
Im einzelnen sind das die Werke:
Playing Card by Pixel Pancho
'Refugees Welcome'by Borondo
Lads Are Back by The London Police
The Starling by Collin van der Sluijs und Super A
On Tiptoes by HOWNOSM
The Circle Of Life by Fintan Magee

Playing Card by Pixel Pancho
Eine weitere, siebte Wand ist in Planung. Die Wände sind Teil des Projektes 'One Wall' von Urban Nation, die in kommenden Jahr 2017 hier in Berlin-Schöneberg das erste Street Art Museum eröffnen werden.
Alle Infos, Hintergründe und die Navigation zu den Werken bietet die kostenlose App Street Art Berlin.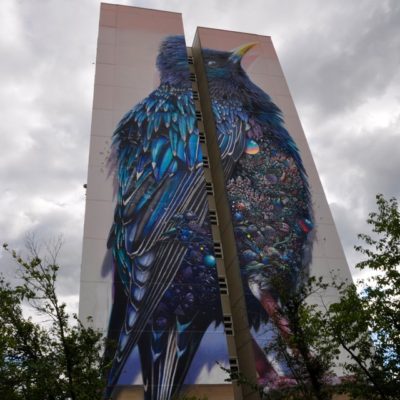 The Starling by Collin van der Sluijs und Super A
Ps. Wer beim starten vom Flughafen Tegel, Richtung Westen startet sollte sich einen Sitz am Fenster auf der rechten Seite reservieren. Für einen kurzen Moment sind die Wände von The London Police und Fintan Magee zu bewundern :)